Welcome

---


Fabian Still Rockin'
You have found the official Web Site for FABIAN, one of the most popular Teen Idols of the late 50s and early 60s. His sexy voice, unbelievable good looks, disarming smile and great personality were the perfect formula needed to make all the girls swoon. And, after 50 plus years he seems to be ever youthful and hasn't lost his touch. No, they are not still trying to rip the clothes off of his back, but they still want to see him perform, want to meet him, and most of all want to get a chance to run up onto the stage and dance the "Twist" with THE FABULOUS FABIAN.

Enter our web site and learn about Fabian's life and career over more than 40 years. Through the aid of pictures you will meet his family and friends, recall his movie and TV roles, be able to listen to original recordings of his most popular songs and have access to his calendar of performances and events. Fabian's records were among the most played by Teenagers dropping their coins into the Jukeboxes. The girls wanted to be loved by him, and the boys wanted to be him.

Also, you will be thrilled to know he has a newly formed Fan Club, and you are all invited to join.

Now, I'm just going to "Turn You Loose" so you can explore the Web Site of...

The Fabulous Fabian




New single Tiger 2020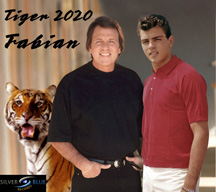 Look Who's Back- FABIAN, the Original Tiger King Heart Throb Has Re-Recorded His 1959 Hit Gold Record TIGER
The Success Of Netflix's Tiger King Brings Fabian Back Into Studio with 2x Grammy Nominee & Multi Platinum record producer Joel Diamond
Fabian Re-records Tiger, His Million Seller Gold Record Chart Topper For the Benefit of Abused Big Cats
Los Angeles/ Philadelphia - (5/21/20)- Fabian, former teenage heart-throb and iconic pop rock artist has re-recorded his 1959 Gold record Tiger on behalf of abused tigers and other big cats and will release it this week. Always having his finger on the trend of the day, which is now the phenomenon "Tiger King", 2x Grammy nominated & Multi-Platinum record producer Joel Diamond wasted no time in tracking down and then convincing a very reluctant Fabian to re-record his huge hit & gold record "Tiger" - which he last recorded in a studio when he was 15 years old. Not dis-similar to the first time around, and after much coaxing, Fabian finally said yes and the result is a new amazing 2020 version of "Tiger". Also, this time around, Diamond is bringing on the #1 Club Re-mixer, 7th Heaven to take the new "Tiger" to even greater heights. "I'm thrilled to have produced a new recording with such an American music icon as Fabian, and adapting to all the challenges that went along with it in coordinating the recording session in CA, PA and UK during the Covid-19 pandemic lockdown", said record producer Joel Diamond.
Teenage Heart-throb Fabian, is one of the first pop rock artists ever to be known by just one name. Fabian was 15 years old when he recorded "Tiger", which won him the Silver Award as "The Promising Male Vocalist of 1958". By the time he was 18, he had eleven of his recordings reach the Billboard Hot 100 charts (including his other major hit "Turn Me Loose") and recorded eight albums. "Tiger" was not only a huge million selling Pop record, but also hit the Top 20 on Billboard's R&B chart.
Netflix show "Tiger King" is officially crowned Twitter King and has been #1 rated and most talked about show on the network worldwide and is now in discussion to become a TV series (8 episodes on CBS) starring Nicolas Cage and a Broadway Show. Kristin Chenoweth having already recorded one of the songs. The stage and TV series follows the life of Joe Exotic, a former zoo operator, an openly gay & gun-toting cowboy, a husband to three men, and a "Milli Vanilli" style country singing career. Joe's latest true crime docu-series is a combination of murder, mayhem, polygamy, and madness; Joe is currently serving 22 years in federal prison, although Cardi B has applied for a "Go-Fund Me" as well as President Trump now getting involved in considering a pardon for Joe. Chrissy Teigen, Jared Leto, Dax Shepard, Kim Kardashian, Sly Stallone, Rob Lowe, Ellen DeGeneres, Ed Norton, David Spade, Shaq, Britney Spears, Courtney Stodden and many other top celebrities regularly share their thoughts, good or bad, about this runaway hit on their personal Social Media.
Fabian is an animal rights person and was appalled by the abuse of the big cats in Joe Exotic's care. This was the prime reason for Fabian to re-record his huge hit 'Tiger', and in turn donate a portion of the profits to Big Cat Reserves and Education centers including the Cedar Cove Feline Sanctuary and Educational Center . "It was only the cruelty to the tigers that could have ever motivated me to re-record my 1959 hit "Tiger" plus the fact that I want to bring attention to all the tiger reserves that are doing such great work. And to Joe Exotic I say F- - - k You!, said Fabian.
'Tiger 2020' was just released on Silver Blue Records and is available on iTunes.
A portion of the video that opens Fabian's show


Download Windows Media Player Here